1. Two white gowns, two tuxedos, one of each or neither? There are no hard and fast rules, so just go ahead and wear what feels right to you. A same–sex wedding is a great opportunity to break away from traditional wedding apparel. Some couples prefer traditional clothing, and others prefer to have a theme, such as Elizabethan garb. The choice is yours!
2. Throw birdseed instead of rice so you don't harm any of your avian guests. Other rice alternatives: beads, confetti, soap bubbles (have your guests blow them!), sparklers, streamers, dried flower petals, a flock of well-trained white doves or brilliantly-colored butterflies… use your imagination!
3. Find people who will work with you, whether they are family and friends or hired professionals such as caterers and DJs, and be clear about what you want in order to avoid misunderstandings. Getting your friends and family involved in the ceremony to perform, read, or just toast the happy couple can make the gathering
uniquely warm and wonderful, especially for cost-conscious couples who can't swing for a live band or other extravagances.
4. Your invitation should provide the vital "who-what-when-where" information, but should also convey what sort of ceremony you are having. Whether you go traditional or alternative, be sure to communicate this to your guests. Response cards are a smart choice as they make RSVPing easier on your guests, and are also a great way to keep track of who is coming. Map cards are also thoughtful, and may help prevent your cell phone from repeatedly ringing during the ceremony when Uncle Bart inevitably gets lost on the way!
5. Gifts: what do you say when someone asks you what you need or what you would like? This can be a sensitive area both for you and the gift-givers. First of all, don't be afraid to register at a department store, but have friends and family members pass the word along. (Do not put it on the invitation - tacky, tacky, tacky. If someone asks you directly where you are registered, then tell them.) Make sure you include low to moderately-priced items on your registry. If friends and family members have done a lot to help you prepare for the big day, don't expect a gift – their time may be their gift to you. (Be sure to thank them in writing afterwards.) By the way, although gifts should ideally be sent prior to the day of the event, many will bring the gifts and cards with them. Make sure you have someone collect all the items and bring them to your home for you. NEVER open gifts and cards at the reception! Finally, if you and your partner are already overwhelmed with stuff, have a friend pass the word that you'd appreciate a donation to your charity of choice in lieu of a gift.
6. Food is a very important consideration, and it is poor etiquette to expect your friends and family to attend a lengthy gathering without providing some sustenance. You must remember to state on the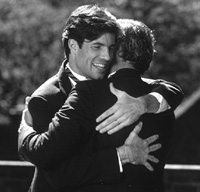 invitation what type of reception it will be so guests won't eat too much beforehand or find themselves famished mid-party. Consider hiring a caterer to help you decide what will best fit your needs. Even if you're on a tight budget, caterers can usually offer a range of prices and options.
7. To drink or not to drink? That's a good question, and totally up to you. If you choose the non-alcoholic approach, soda, lemonade, iced tea, and punch are great. If alcohol is preferred then a full bar setup is one way to go, but if you're counting pennies, just provide a simple choice of beer, wine, and/or an alcoholic punch. Be sure to stock enough non-alcoholic beverages for non- drinkers, especially the designated drivers.
8. Don't be afraid to announce your engagement in the local newspapers. GLBT or alternative newspapers are usually happy to include your listing and will almost certainly accept a display ad, but don't skip the mainstream papers if that is your desire. The more same-sex couples make this request, the more likely the papers will change their policies!
9. To change your name… or not. This is a very personal decision. Choices include keeping your own names, taking one or the other person's name, hyphenating your names, merging your names, or picking a whole new name. Make sure to check with someone who knows the law in your state, and don't forget to change everything including your social security card and driver's license.
10. What do you call the person you have joined with? Husband, wife, partner, soul mate, lifelong partner, significant other, spouse, my man/woman, the love of my life, my better half? That's entirely up to the two of you – just use your chosen titles with confidence, and without apology.
11. Weddings can be very complicated affairs, and on the Big Day you may feel as though you're at the breaking point! Throughout it all, try to keep in mind why youare doing it: to express your love for one another. Don't get bogged down in the details. For example, if the band doesn't show up, just turn on the radio and dance in each other's arms. Life happens, and today's the day to put your best foot forward. You owe it to your guests and your spouse-to-be
to not hyperventilate over every little thing that goes wrong, and you owe it to yourself to have fun.
12. Even though you are the guests of honor, do keep an eye on your other guests. Introduce people to one another – don't let your families and friends stand in separate cliques if you can help it! Recruit a trusted friend to run interference and help draw out the shy folks, or even play matchmaker. And make sure that someone keeps an eye on the party-hearty partygoers, and snags car keys from guests who have imbibed.
13. The honeymoon should take place where the two of you can feel free to express your affection toward one another. There are many popular gay-friendly destinations, such as Provincetown, Ogunquit, Northampton, Fire Island, Palm Springs and Key West. All lovely vacation spots, but don't pick a gay standby just because! Go wherever you want to go, just be sure to plan ahead and, if possible, check beforehand with gay organizations or individuals in the area if you are concerned about whether or not you'll be welcomed.
14. Don't forget to send thank you notes in a timely fashion. Remember to thank folks for gifts as well as any help they provided.