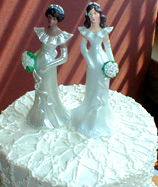 1. Share your fantasies with each other (Oh, get your mind out of the gutter - I meant your fantasies about the perfect ceremony and reception - there will be time enough for the other fantasies later). Make sure to take notes as you brainstorm ideas. Once this list is complete, go back through it and decide what elements might actually be possible or within reach with some modification. Now you can both begin to sketch out a realistic plan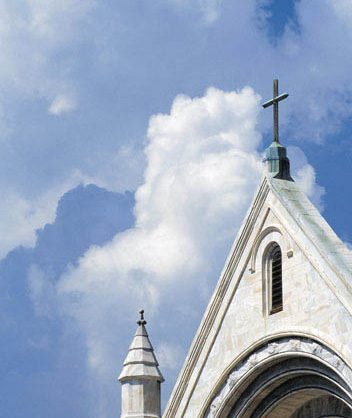 2. Begin planning early so you have time to thoroughly explore all of your options. Last-minute arrangements usually result in significantly higher costs to receive the same quality of service.
3. Don't be afraid to ask a lot of questions. Friends and family have more information than you could imagine.
4. Be sure to use GLBT-owned and GLBT-friendly businesses wherever possible to avoid unnecessary discrimination and bias. Use guides such as this one and a variety of local publications to help locate vendors and accommodations that welcome your business.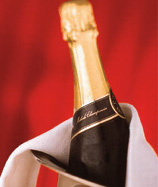 5. Put everything– yes, EVERYTHING – in writing. Contracts should include a detailed description of what is to be provided, the times the vendor will start and finish (as well as what can be done if overtime is needed), who is responsible when things don't go exactly as planned, and the delivery and return dates for rentals. Read the fine print before you sign and don't be afraid to question anything on the contract that seems unclear. Get a signed copy. List emergency phone numbers where the vendor can get in touch with you as well as another contact person. Finally, ask a trusted friend or family member not directly participating in the ceremony to help make sure that all is going according to plan on the Big Day, and empower them to make decisions if need be.
---


ELEMENTS OF A CEREMONY
There are two basic types of ceremonies: civil or religious. Your ceremony can be traditional or you can create one of your own. Whatever you choose, the goal of your ceremony should be to declare your love for one another as well as state your aspirations for the future. Most union ceremonies consist of the following elements: the introduction, the statement of intent as to why the wedding is taking place (this is also an appropriate time for the officiate to make comments), the exchange of rings (or another symbolic gesture of your bond), the pronouncement of "partners for life" by the officiate, and finally a blessing for your union.
BUYING THE RINGS
Some same-sex couples feel apprehensive about going into a jewelry store to pick out rings. Our resource section lists many community-friendly jewelers who are more than ready to help you. GLBT -friendly websites also make ring selection easy, ensuring a custom fit and the perfect design.

YOU LOOK FABULOUS, DARLING! – WEDDING APPAREL
Whatever you hope to wear, try to get it on sale if possible (because, let's face it, you'll probably never wear it again). If you plan early enough you can usually get good deals at the end of the season. Buying one size larger is smart, just in case the pre-wedding stress causes you to eat more than you normally do. You can always have it taken in later if you need to. Simple can be elegant, but choose whatever befits your personality and sense of style.

FLOWER POWER! DECORATING
Flowers add an excellent accent to any room and provide a lovely backdrop for photographs. No wedding is truly complete without them. Determine where and how you want to use flowers, as this will prevent you from going overboard. Take time to really discuss with the florist what atmosphere you wish them to create. Also consider renting potted plants and trees from the florist, rather than flowers in vases, especially if your event is outdoors. (Potted plants will hold up better under the elements and wind.) Tip: If you're on a tight budget, try not to schedule your ceremony around a holiday – flower prices tend to skyrocket!

THE PHOTOGRAPHER/VIDEOGRAPHER
A professional photographer (or videographer) is very important, as he or she will document the entire event for you to look back on for years to come. To select a photographer, look closely at the portfolio to get an idea of the photographer's style. Discuss the minimum number of proofs, how long she or he will need to be at the event and the cost for overtime, as well as any other fees that might be included and the payment schedule. When selecting a videographer, be sure to ask to see a demo tape and the videographer's equipment. Discuss what video format should be used and what happens if equipment fails.

LOCATION, LOCATION, LOCATION
Don't hesitate to call anywhere that sparks your interest. Even if a site has never hosted a same-sex union ceremony before, they may be more than welcoming – you won't know until you ask! There are many beautiful locations listed in our resource section including properties with gardens, waterfalls, and spectacular mountain vistas. (Just remember that if you opt for an outdoor event, you MUST have a tent.) You may be surprised to learn that off-season hotel rates are often negotiable, and great deals abound. Community centers and church halls usually require only a small fee for their use, and time spent decorating can often transform these buildings into something quite beautiful. (You can always hang fabrics to brighten the space or cover ugly walls.)
Whatever you choose, make sure you go over the fees for the use of the location, when it is available, the crowd capacity, whether there is a reception facility available, and any other rules or "extras" that may change your plans.

CHOOSING AN OFFICIANT
Your choice of wedding officiant is one of the most important wedding-planning decisions you will make. Because of the officiant's prominence in your ceremony, an uncaring or unprofessional individual could spoil the whole mood. Be sure to spend some time talking with your prospective officiant and gauge the chemistry between you. Listen to your instincts. A good officiant should have: experience (with references to prove it),a pleasant speaking voice professional appearance and demeanor a mind open to your wedding plans, yet able to advise when needed
an easygoing and compassionate nature.
CHOOSING A DJ OR BAND
For reception music you have two basic choices: hire a band or a DJ. If you choose a band, they should be professional, take requests cheerfully, and should be able to make the best out of any situation. Listen to or view a demo tape before you hire. If dancing to known recording artists is your preference, or if you are unable to afford a band, hire a DJ. Be sure the DJ will allow you to send a song list ahead of time so you can be sure to hear the songs you love. This is your event and should reflect your taste in music. Also, you may want to ask the band or DJ if they offer emcee services, which can help keep the event lively and entertaining.
Whoever you hire, be sure to let them check out the location ahead of time to see if there could be any potential problems. Don't forget to ask if they carry backup equipment in case something goes wrong. Go over the lineup to make sure everything runs smoothly and to ensure that you get what you want – after all, it's your day!

HIRING A CATERER
Good caterers are experts, not only at serving food. Caterers know what's suitable for the occasion, where the best event locations are, how to structure the day, and should provide you with information about other services you may need. Check the caterers' references to help narrow your list (yes, you should always consider more than one vendor!) Sampling food will help you make the right selection as well. Ideally, you should meet with the chef, discuss the feast, and request a dinner sampling for you and your partner.
As scrumptious as a meal from the Ritz Carlton may taste, keep your wallet in mind. Food budgets are determined by estimating how much you will spend on one guest and multiplying that by the number of guests you've invited. Add about 10% for overage, 17-20% for gratuity, and your local taxes. Discuss with the caterer what is included in the service (such as dinnerware and centerpieces) and what will cost extra (setup and cleanup are very good things to ask about!) Be sure to discuss how much the deposit will be, when it is due, when the balance is due, and the deadline for choosing a menu. Don't forget to ask about cancellation or postponement policies! To avoid hassles, get all estimates in writing and form a clear, detailed contract with the caterer.
A SLICE OF CAKE…
For the grand dessert, anything – large or small – is acceptable. There are no hard and fast rules, so pick your favorite flavor, get samples in advance, and go for it. Just make sure you save a piece of whatever it is and freeze it for your first anniversary – it's a cute tradition. I can almost guarantee it won't taste as good, but the memory of that special day will be just as sweet.

MONEY, MONEY, MONEY – HOW MUCH TO SPEND
Whether you are planning a large event or a more intimate affair, sticking to a plan is important. Deciding how much to spend in each area can be tricky, so here are some rough percentages to help get your budget started. (Feel free to adjust according to whatever elements are priorities for you, but make sure it adds up to 100%!)
40% - reception location; food and beverages
10% - flowers and decor
10% - attire
15% - DJ/music
15% - photography and/or videography
10% - invitations, fees, miscellaneous expenses
Keep careful track of quotes, deposits, balances, and contracts. Comparison shop, but remember: if it sounds too good to be true it probably is. You usually get what you pay for if you did all your homework.